Thank you for visiting my personal website dedicated to the Gardens of Bagatelle in Paris, France. It is a landscaped garden which dates back to the 18th century. Now a botanical garden of the city of Paris, it is a must see, especially from spring to autumn. The garden is famous for its rose garden and annual international roses contest held since 1907.
Read the Welcome message to know more about this website!
Most pages are written in French, I will update in English whenever I have time to, but in the meantime, even if you cannot read French, you'll love the pictures. ;-) . There is also an INSTAGRAM account, which is in French and English.

Instagram : @persojardinsbagatelle
28 March 2022:
Dear friends,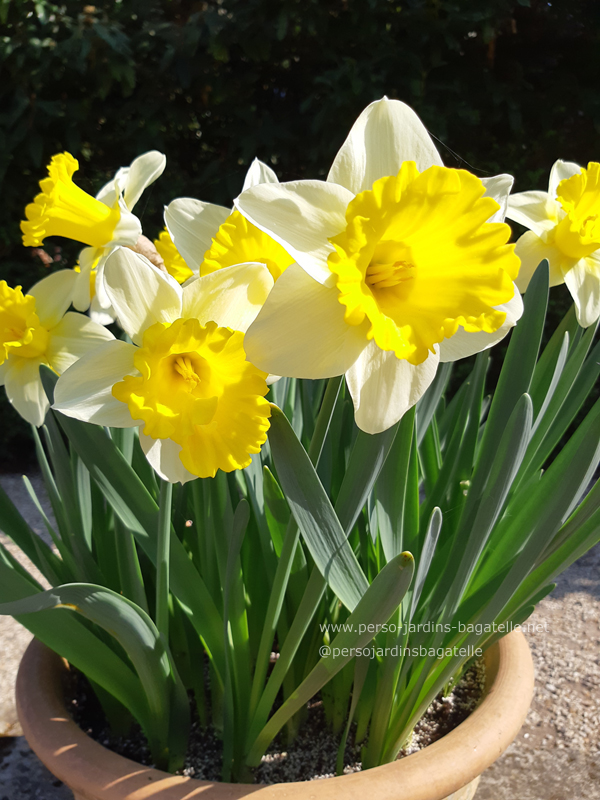 First the good news : since Sunday 27 March 2022 (daylight saving time), the park is opened everyday from 9:30 to 20:00.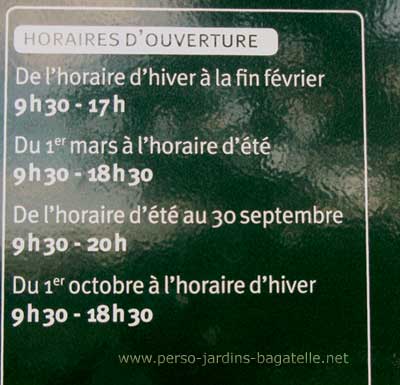 Then, money matters: admission fees will be charged from 1st April until 30 September 2022, the prices are 2.50€ , 1.50€ (reduced) and O€ depending on the category - for instance it's free for children under 7 years old. It's possible to buy a season ticket in the park's shop (bring an passport photo), opened from 9:30 to 12:00 and 13:00 to 17:00.

Online ticket office on the website of the city of Paris: https://www.paris.fr/pages/le-jardin-botanique-de-paris-3539#tarifs-et-billetterie-en-ligne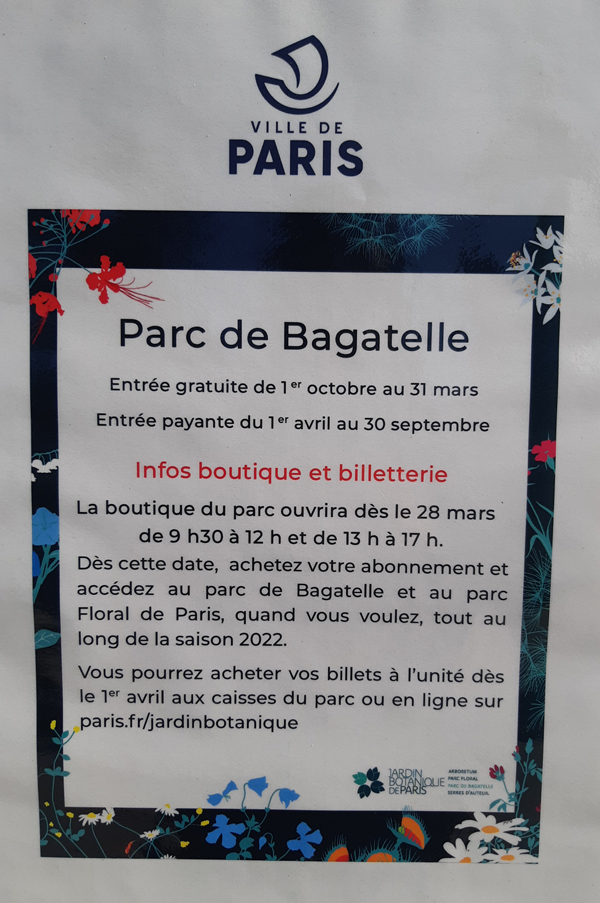 Our latest updates are on the French website and on Instagram : @persojardinsbagatelle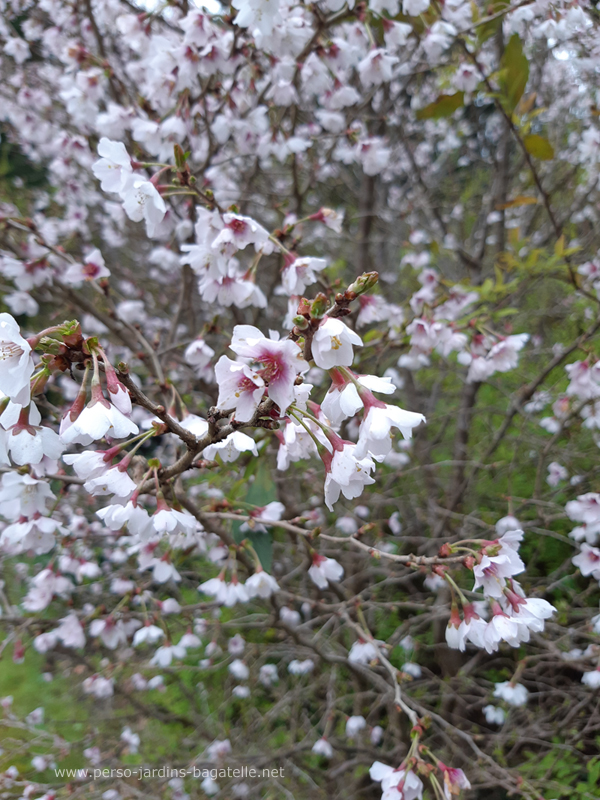 See you soon!
Dear friends,
I had to show you these lovely hellebores, also known as "Lenten roses" (they are not roses, it's just a compliment : these are "helleborus orientalis")...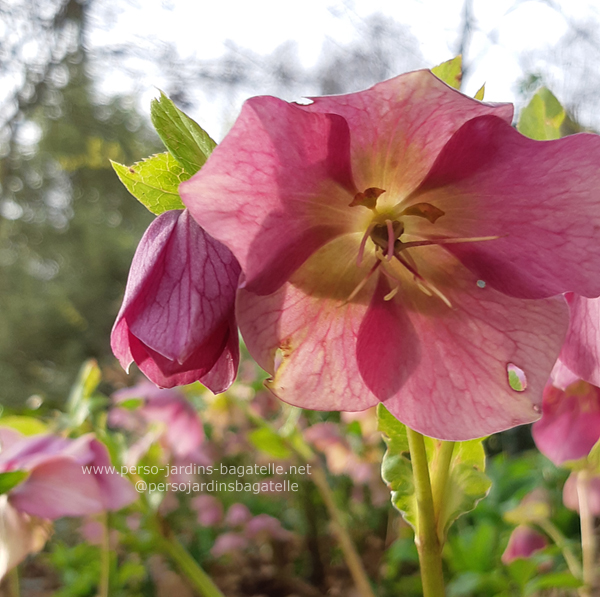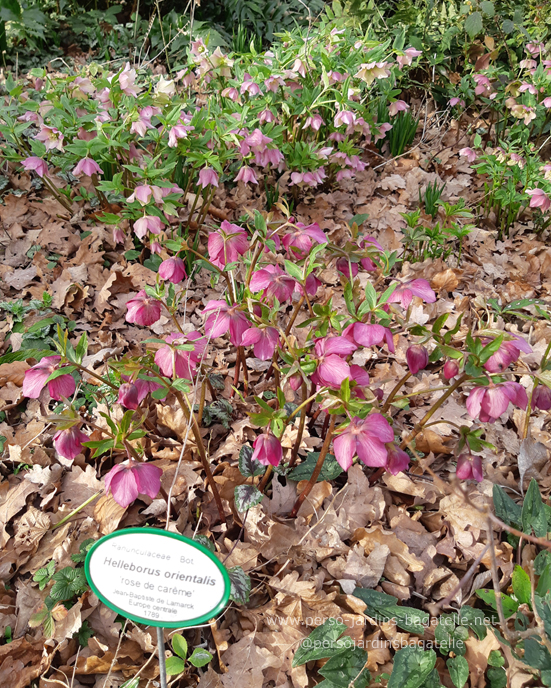 ...and the lovely snowdrops (Galanthus nivalis), who met no snow this year.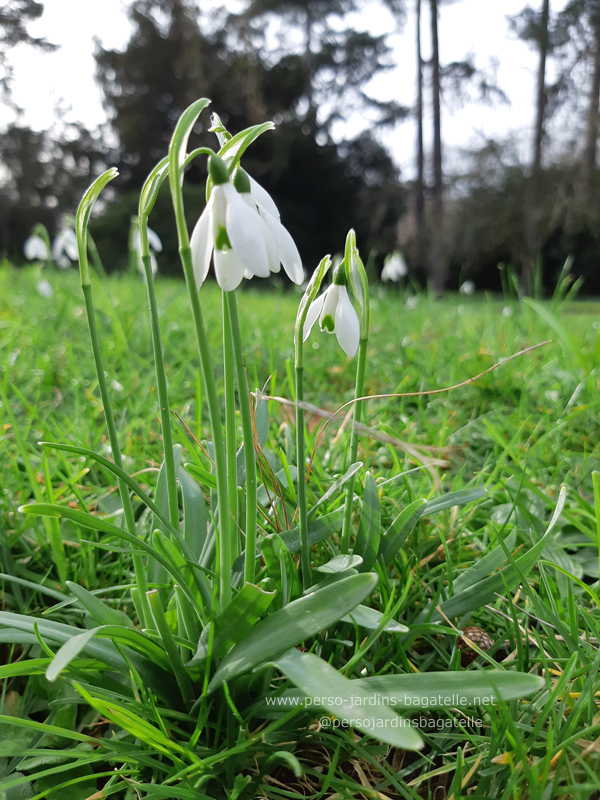 Enjoy winter time!
See you soon!
Dear friends,
I don't know how the weather is now where you are but here at the moment there is bad weather everyday, and finding a few roses in Bagatelle is heartwarming. One of the rose bush in the landscape rose garden (the smallest of the 2 rose garden of Bagatelle, located beyond the castle) was waiting for us with flowers. We don't know its name, as it's one of the rose trees running for the annual contest and is anonymous at the moment.
Happy to find such color now!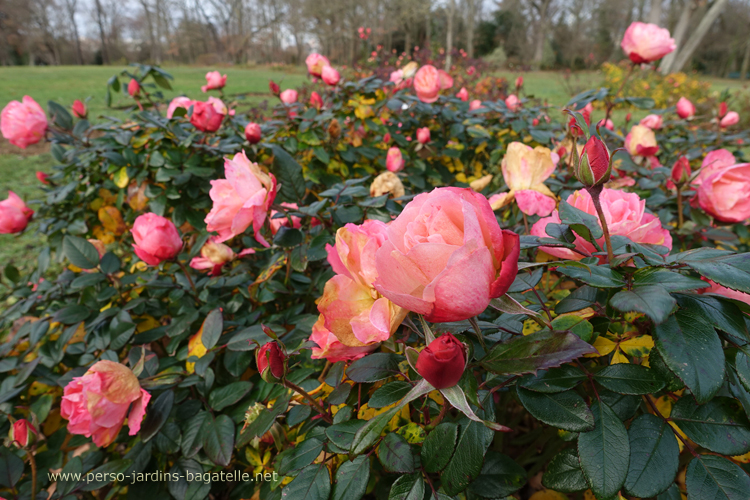 New colors with this couple of mandarin ducks, met here for the first time ! The male duck's plumage is more extravagant, but both are charming.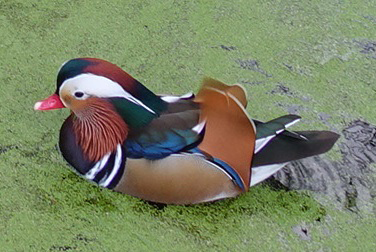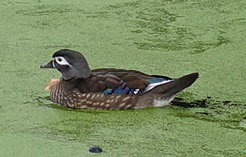 And more colors again in several placed with these new information panels about plant biology, explained in a simple way...but in French. T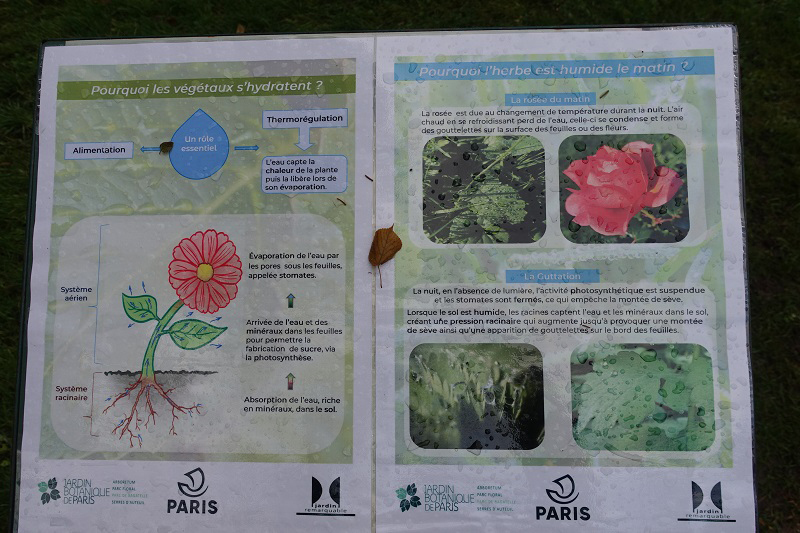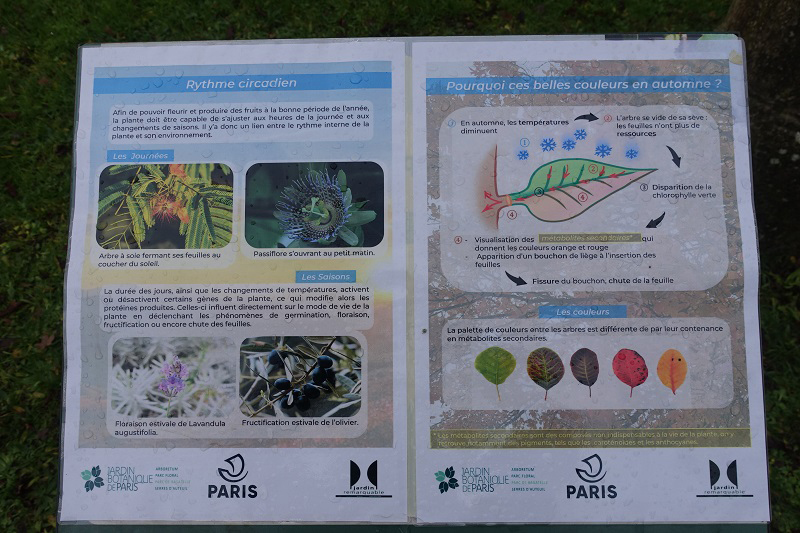 In Paris, it's been raining for weeks...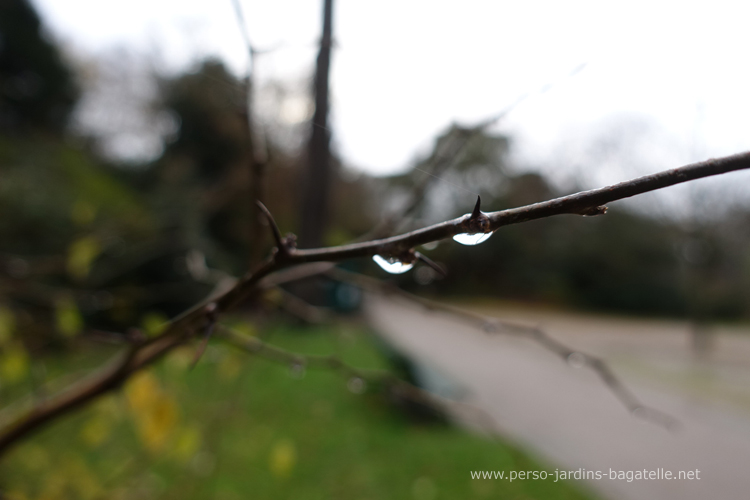 and when it's not raining, it seems about to rain...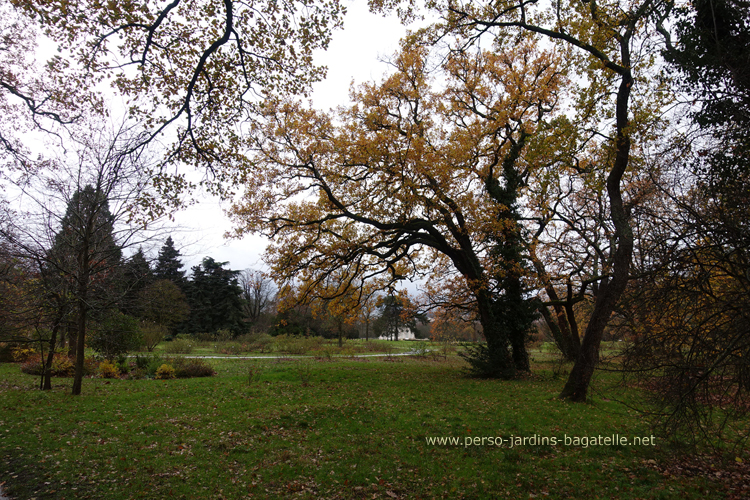 But you can find beauty here and there, in this lovely oak leaf fallen on a pine tree...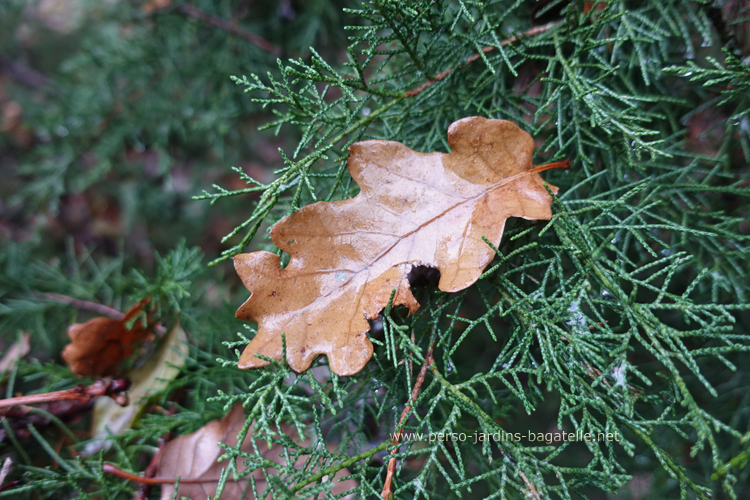 I remeber the autumn colours, a few weeks ago (below : the gardener's house in the vegetable garden),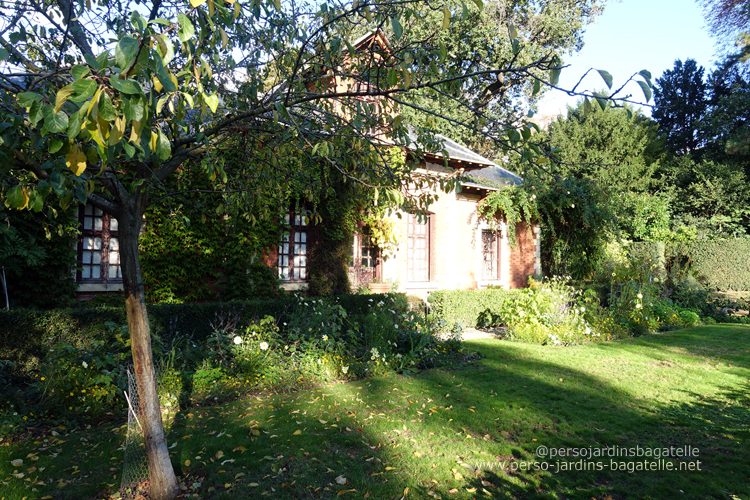 ....when dahlias were blooming,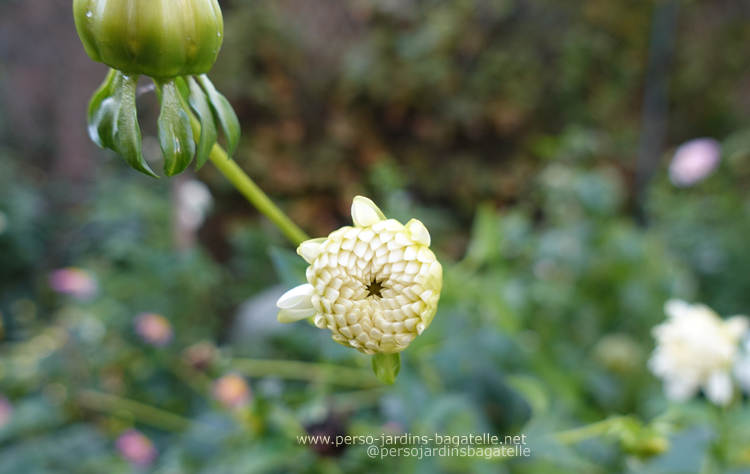 ...when we could see the blue sky through the branches of a huge plane tree planted in 1847.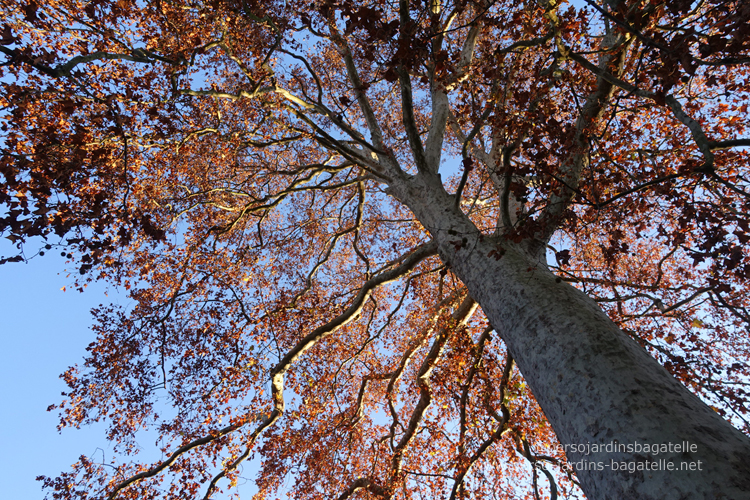 ...and the color gradation of leaves...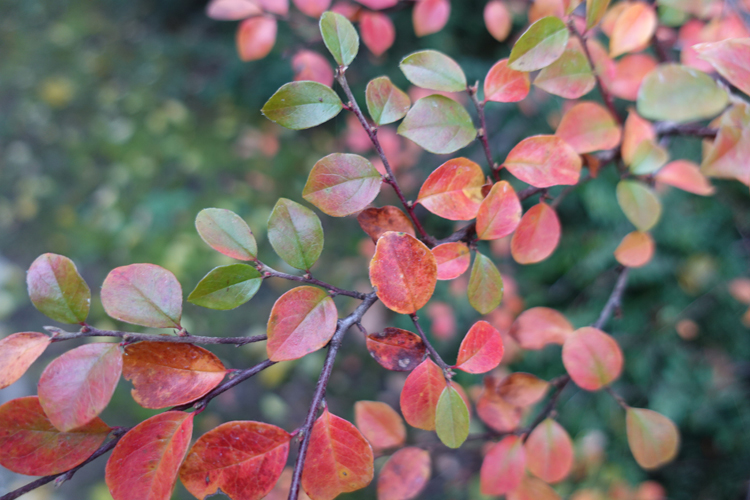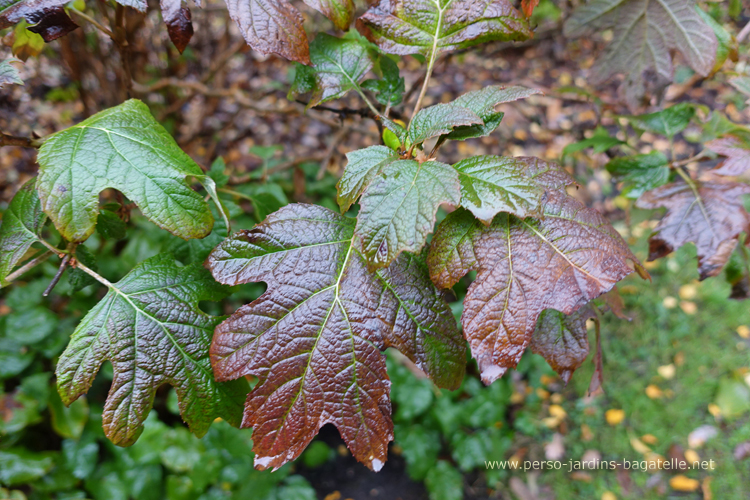 There were still many flowers in front of the orangery.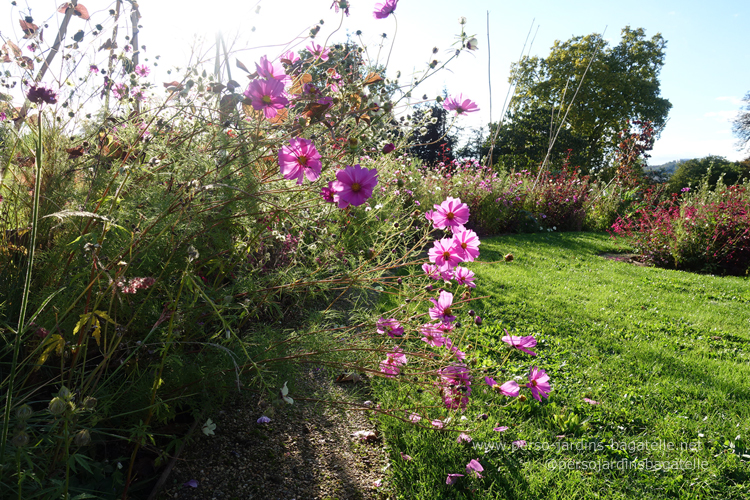 The sun and the blue sky will be coming back before the flowers ;-)! I'll be patient, enjoying winter.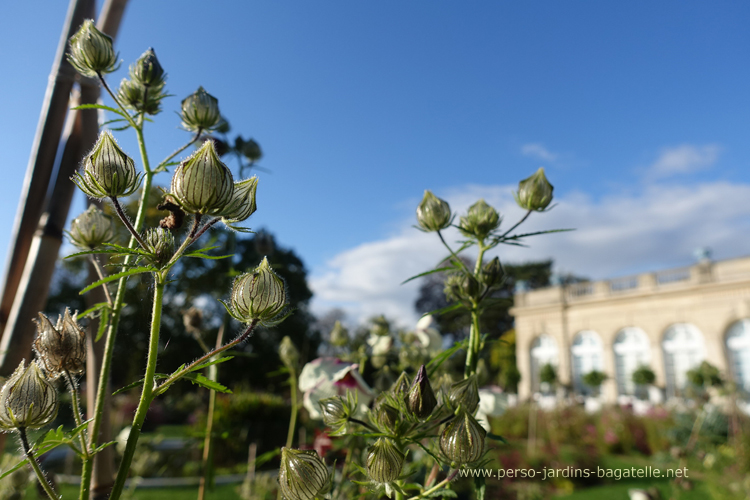 See you soon!
1st January 2021
Happy New Year !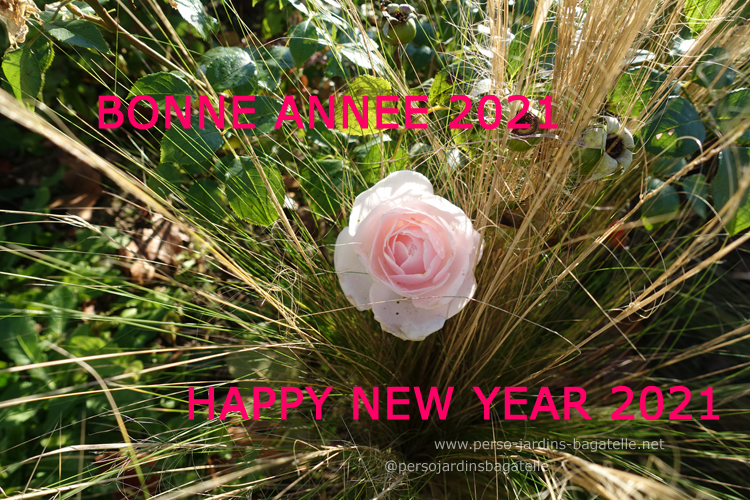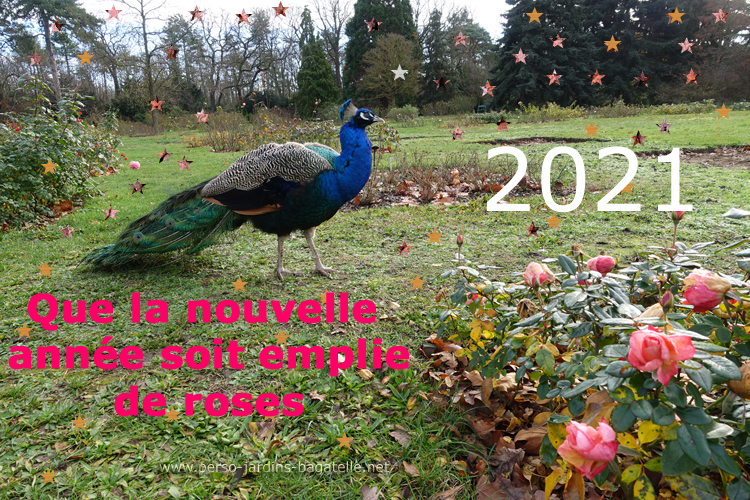 Hello dear rose lovers!
Let's dive into roses...virtually of course:-)...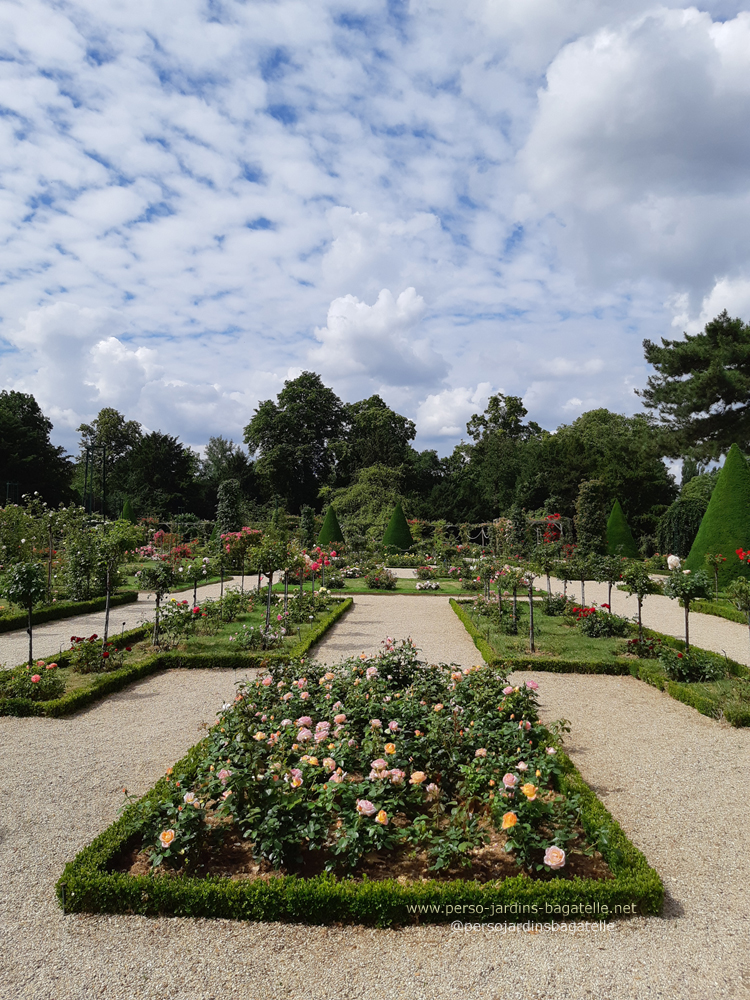 Here is a "pool" full of rose bushes :-)...Meet the rose "Elle".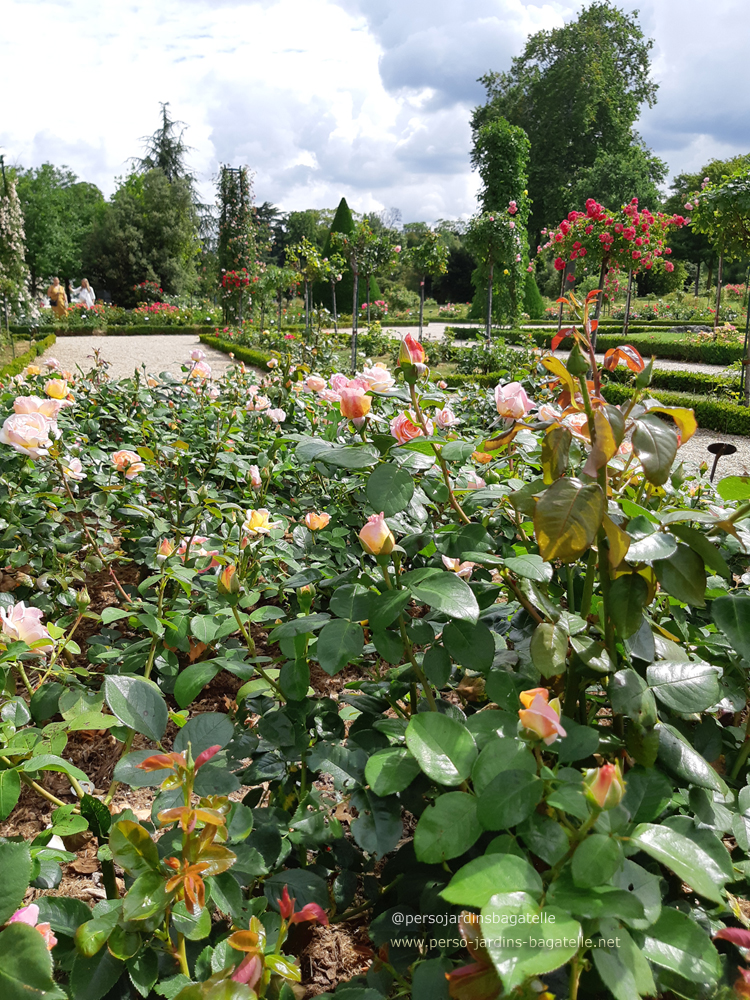 "Elle" was created by Meilland, a renowned French rose breeding company.
In 1999, "Elle" won the Bagatelle award for the best fragance.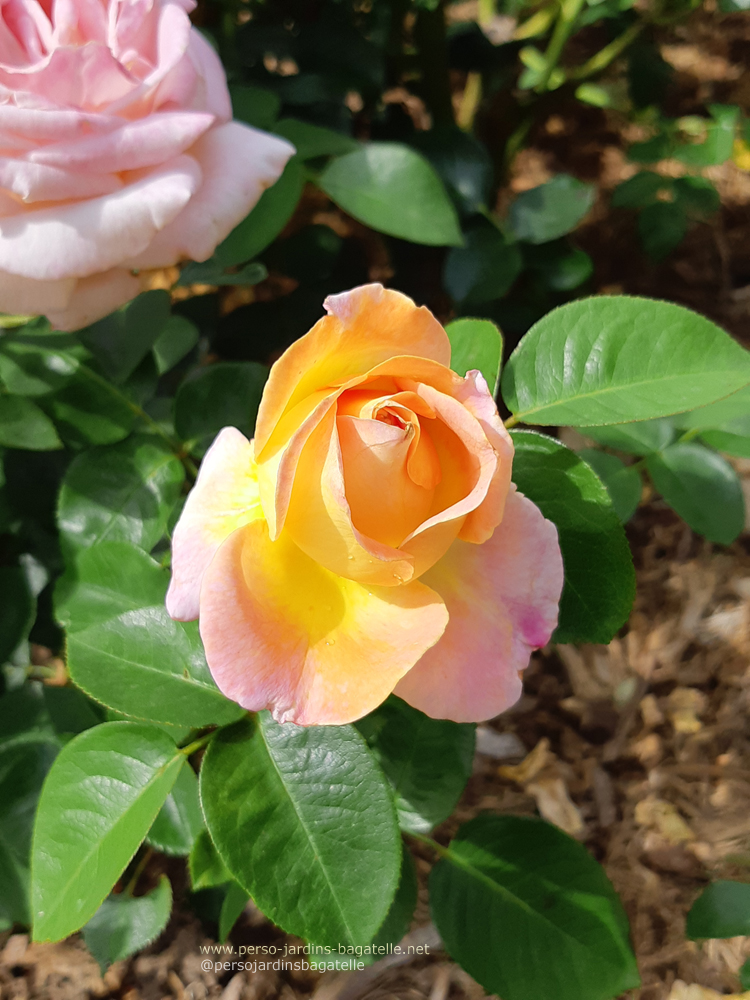 The multi-colored flowers (yellow, rose and peach) are lovely in the sunlight!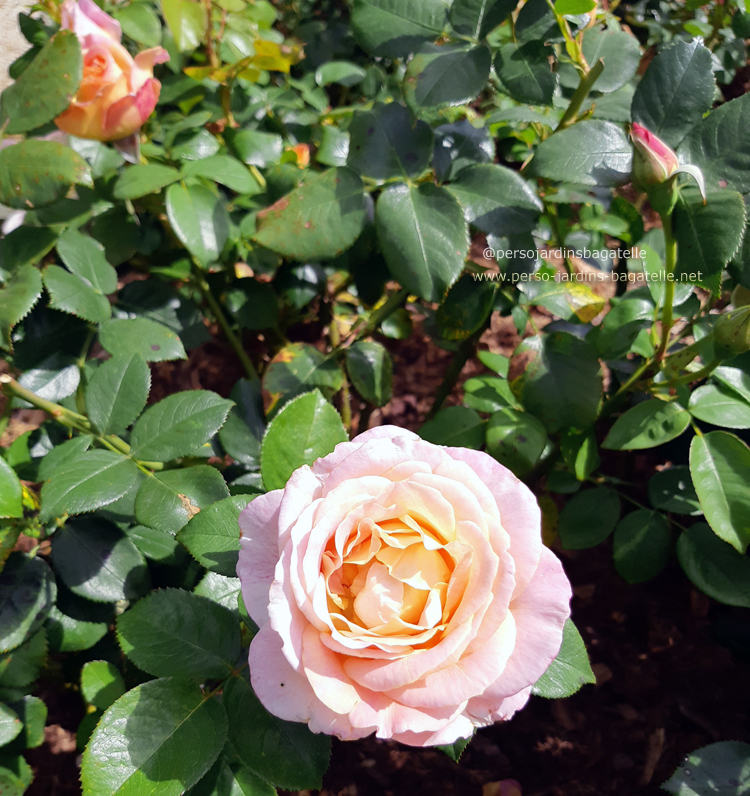 One of the beauties of Bagatelle's rose garden!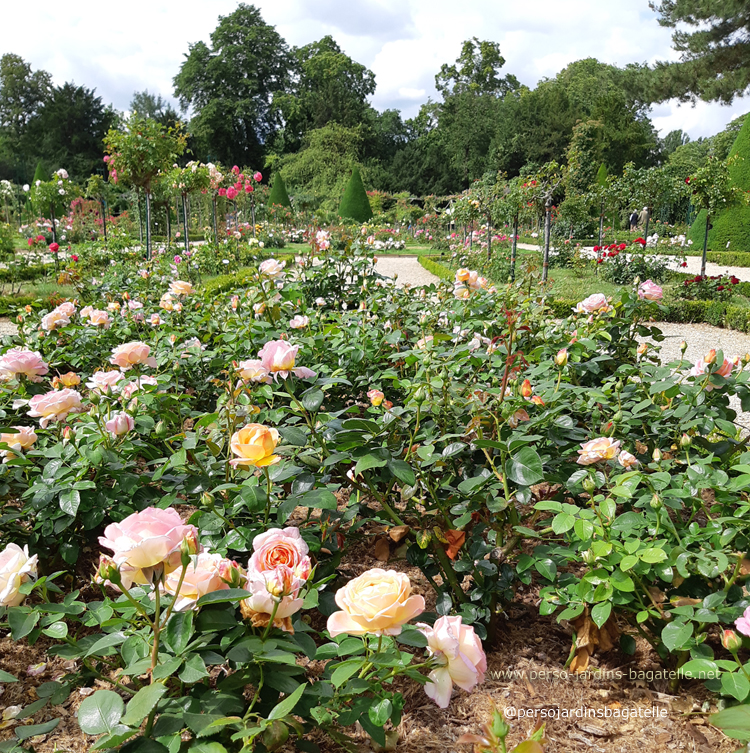 See you next time!
12 June 2020
Dear friends,
Bagatelle is open again!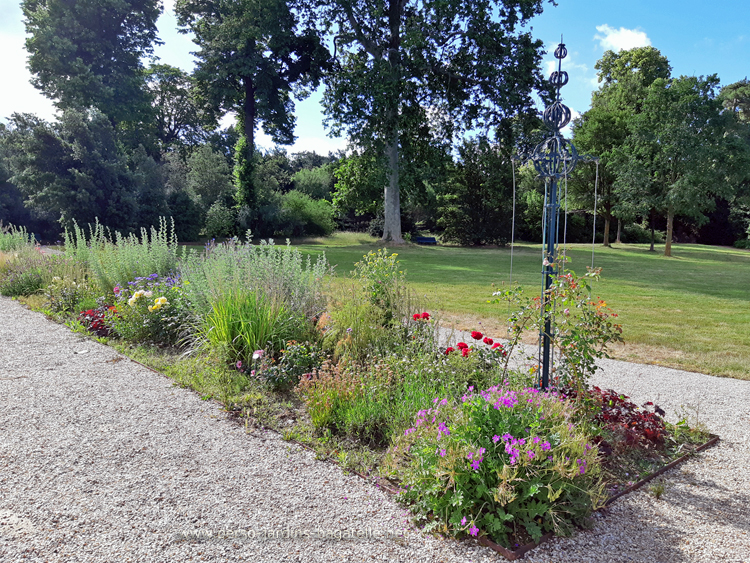 The rose garden is in full bloom! See how beautiful it is!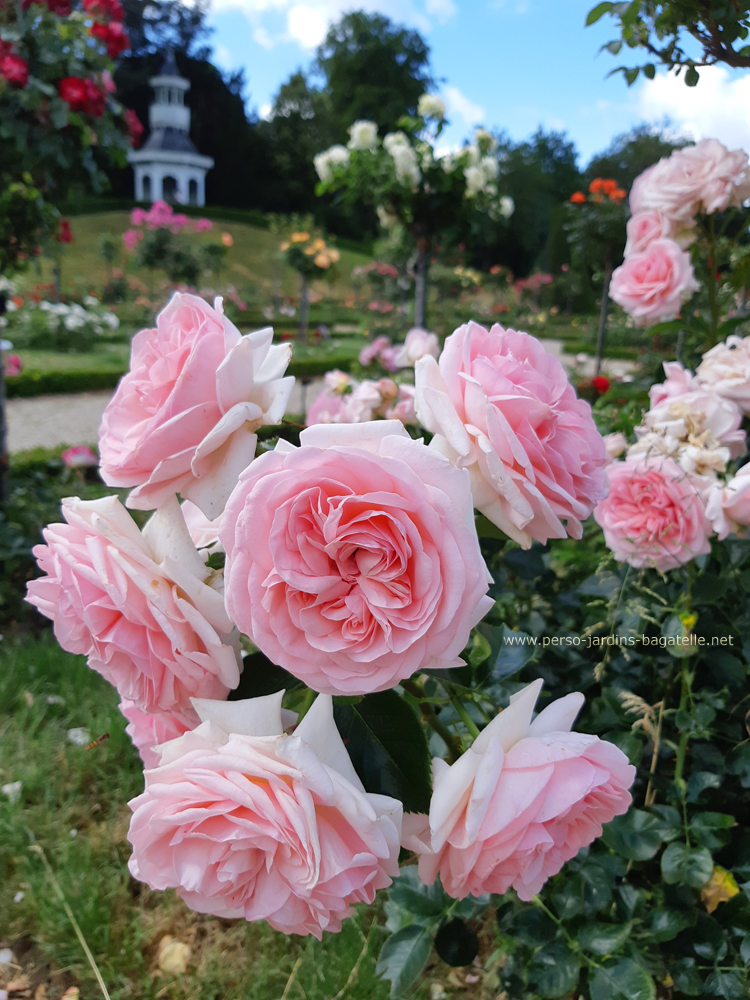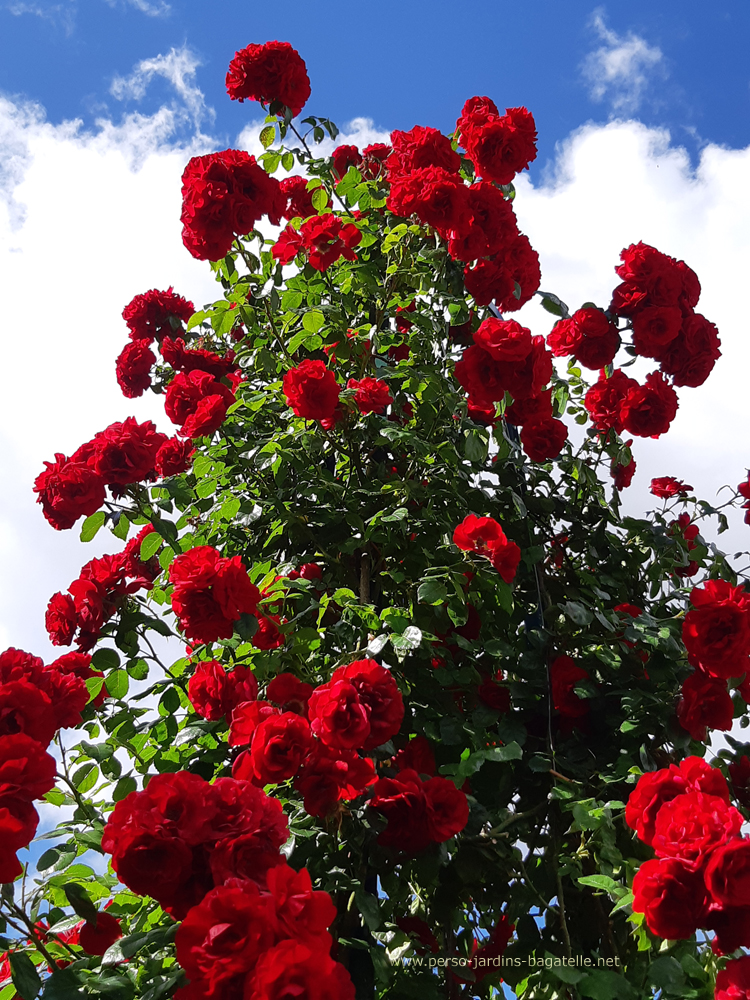 More pictures soon!
6 June 2020:
Information: The access to the park will be free of charge on Sunday 7 June, according to information given on the spot, and the high season will start on Monday 8 June (access fee : 2€50 and 1€50).
Further info (In French:) https://www.paris.fr/equipements/parc-de-bagatelle-1808
29 May 2020
23 April 2020
Dear readers and friends,

I hope you are well and safe in this difficult pandemic time. France has been under a strict lockdown since March 17. In Paris too, parks and gardens are closed until further notice and so is Bagatelle. Since March 17, I have been publishing on the website and on Instagram only pictures taken before the containment measures.

It's also a good time for me to make some updates and improvement. I added today an link page in English. You will find a few sites with English descriptions of the park and links to YouTube channel with nice videos.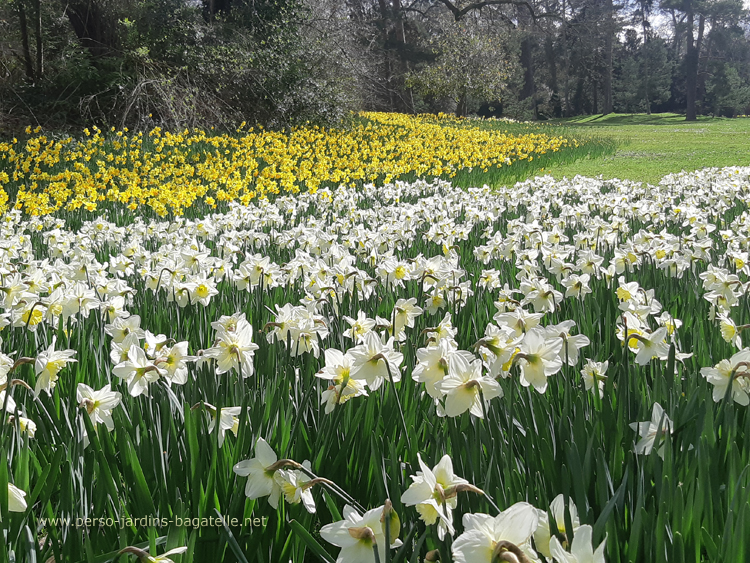 If you can read French, you will find additional contents in the French link page which has been updated yesterday.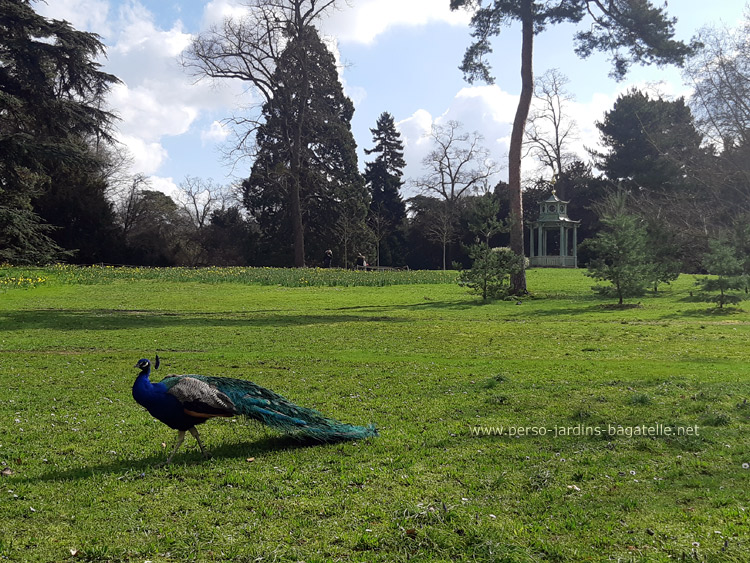 See you soon here and on Instagram!


24 February 2020
One cannot get bored in a botanical garden in winter, especially in Bagatelle : discovering the form of the branches of bicentennial trees, meeting elegant peacocks, looking for the early signs of spring...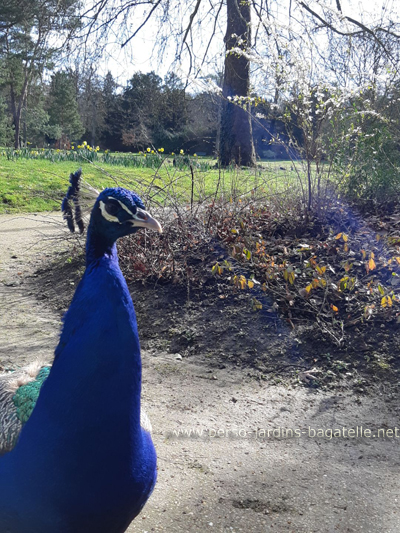 Today I propose you to walk around the water lily pond .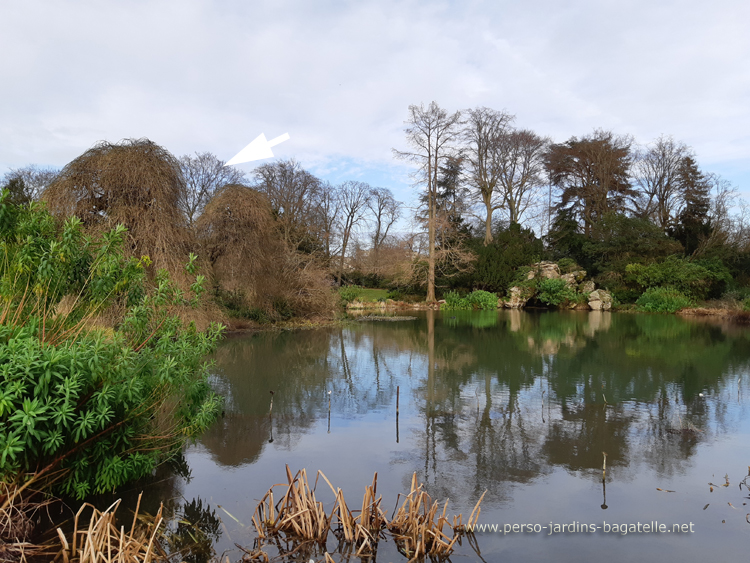 It's a calm place in winter. if you listen well you will here the cry of coots.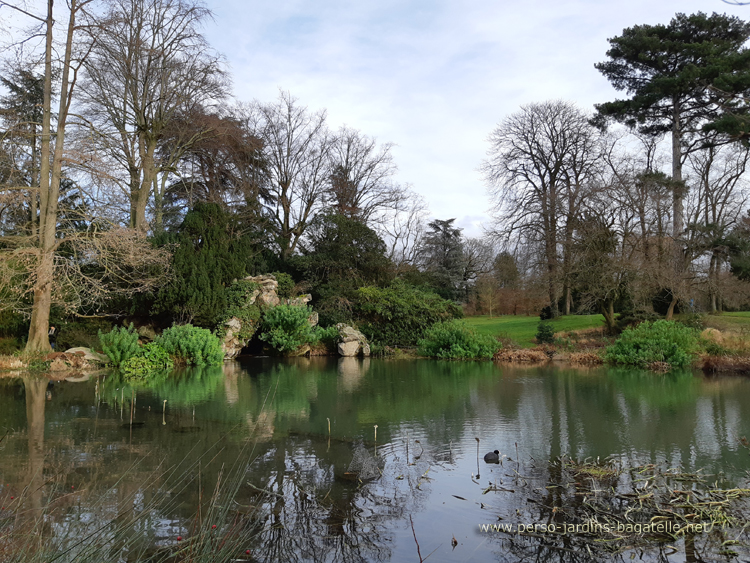 Of course, February is not the time for the lilies, it's rather the right moment to see for different kinds of euphorbia.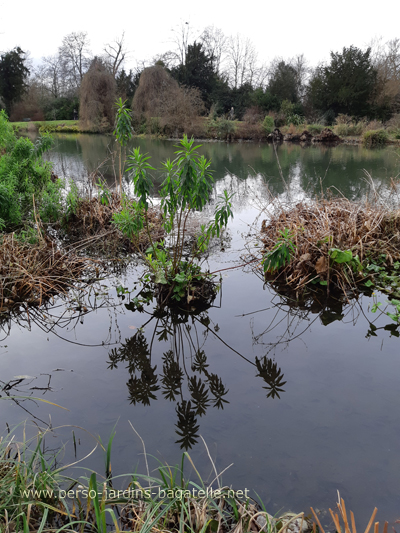 The castle seen from the pond (can you see the coot?).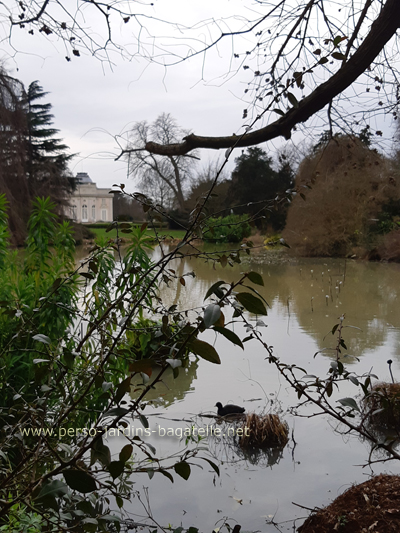 And can you see the duck hiding under the tree? (well, it's rather easy to see it on the picture , but not always on the spot!)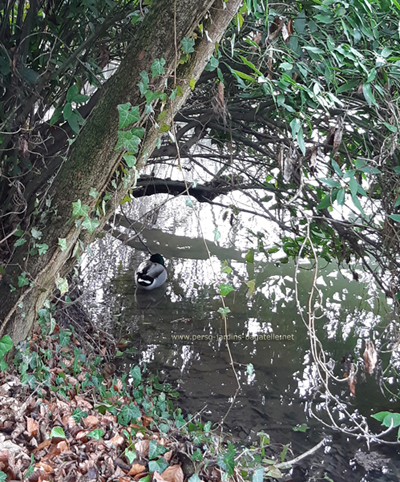 It's also the right time to look at the strange shape of the sophora japonica. It's a little creepy!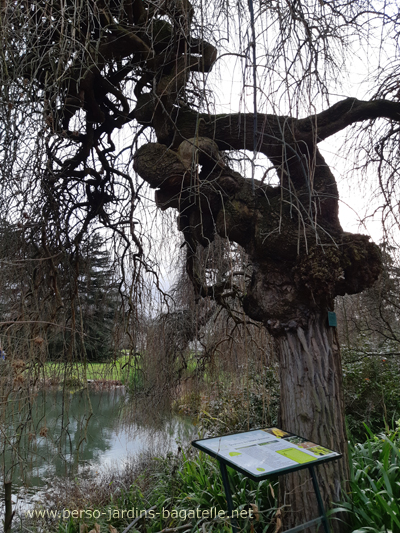 We have signs in the magnolia trees that spring is coming... can't wait!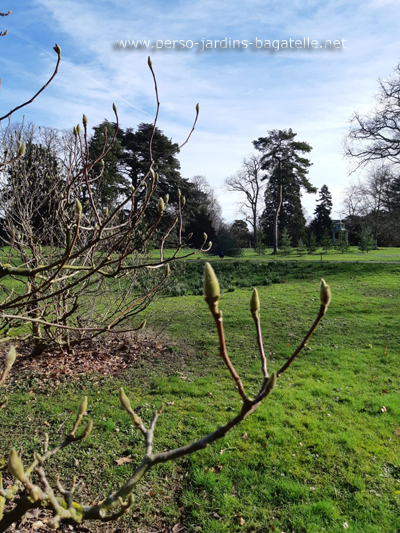 Did you have a look at the photos published on our Instagram on the last few weeks?;-)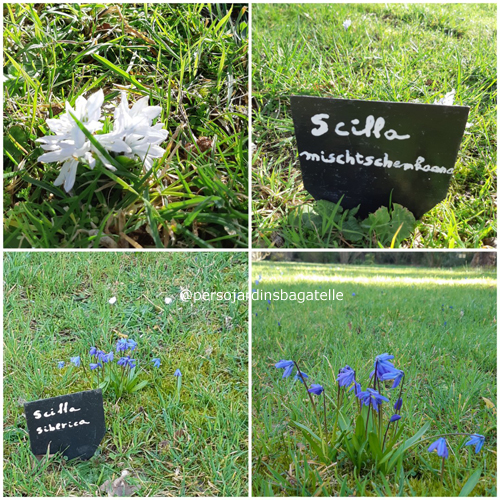 See you in spring!

1st January 2020
HAPPY NEW YEAR - May 2020 be full of joy and happiness, as beautiful as a rose garden in bloom!
Here are a few pictures taken this autumn in Bagatelle: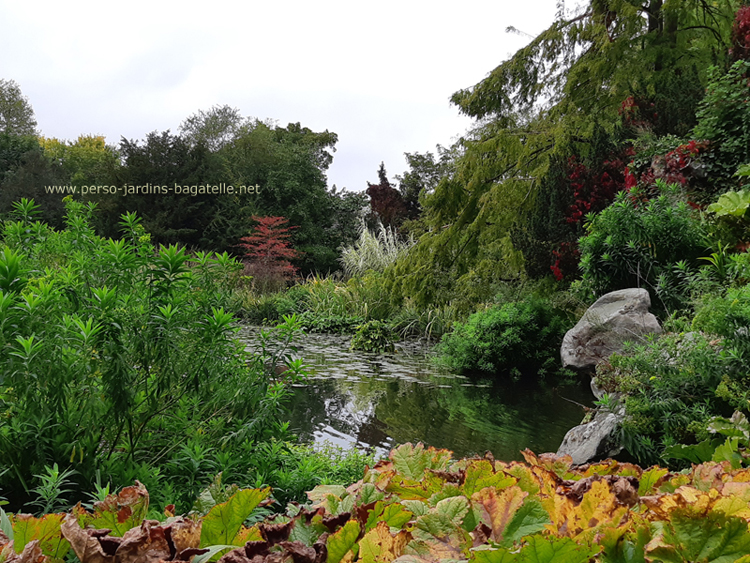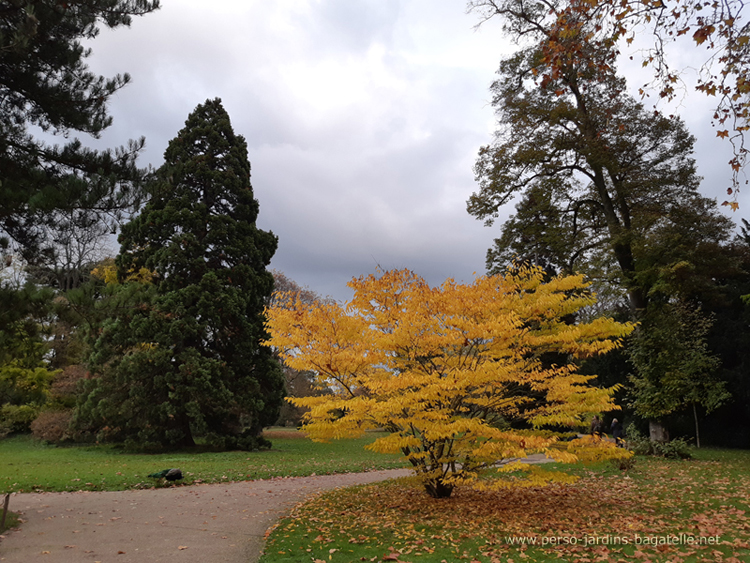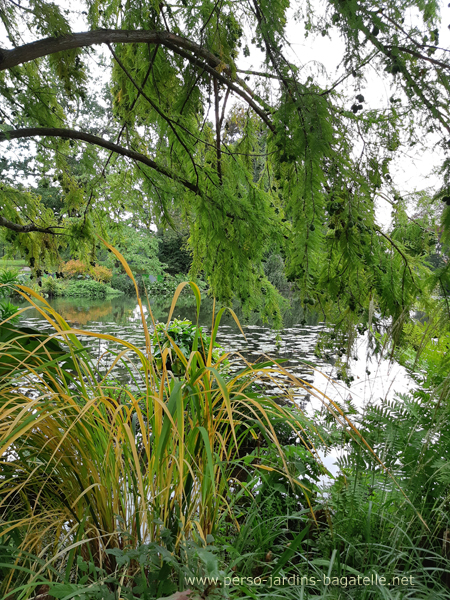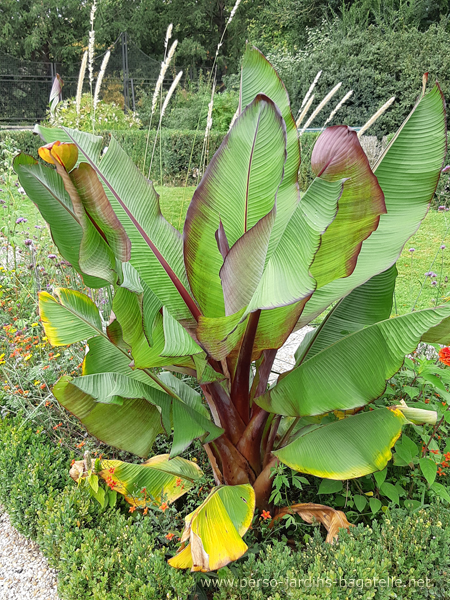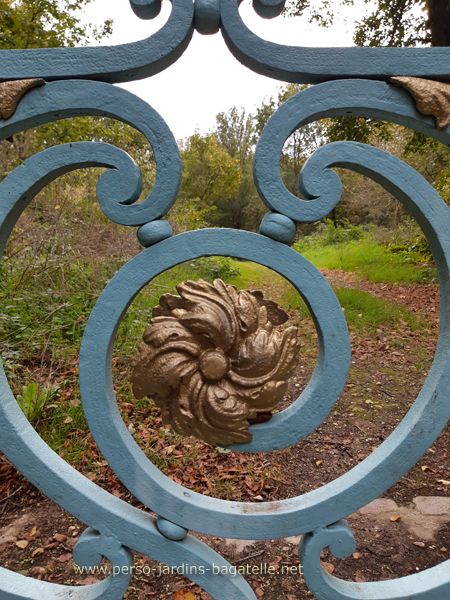 Have a wonderful year 2020! See you soon!

20 October 2019
Summer 2019 ended with a gardening festival organised in many sites of the city of Paris including Bagatelle. And there was music! There was activities for all ages. Several workshops were organised for children : planting seeds, reading and tree-climbing. Garderers were also present and available for anserwing questions and advice on gardening, especially roses (as you may already know, the rose garden is the most famous part of Bagatelle).
Link to the rose garden - this link and the links below will lead you to pages in French, but don't be shy if you don't read French and enjoy the pictures you'll find :-)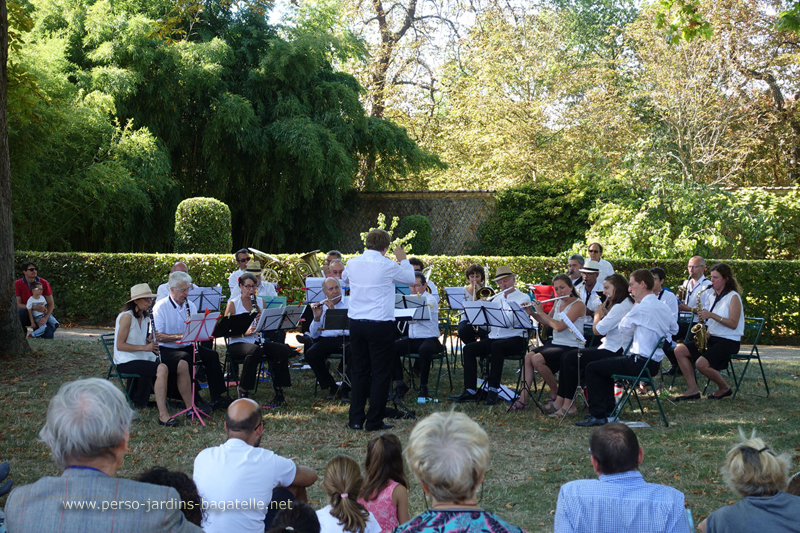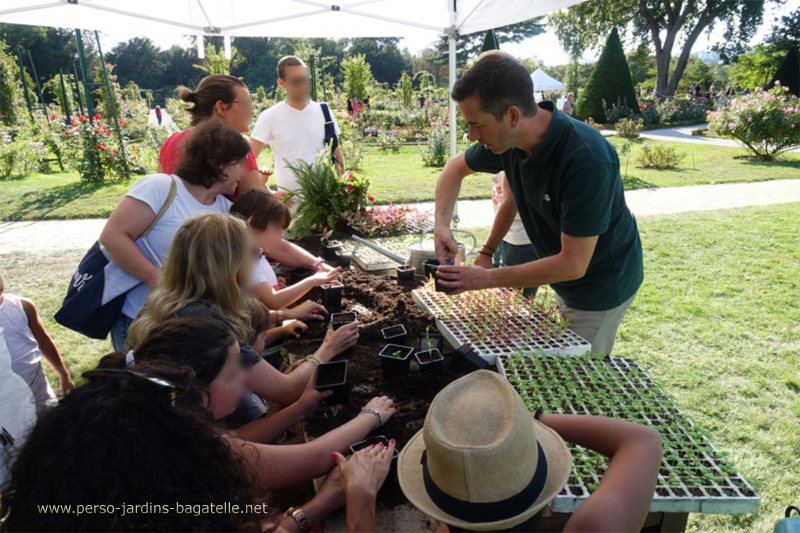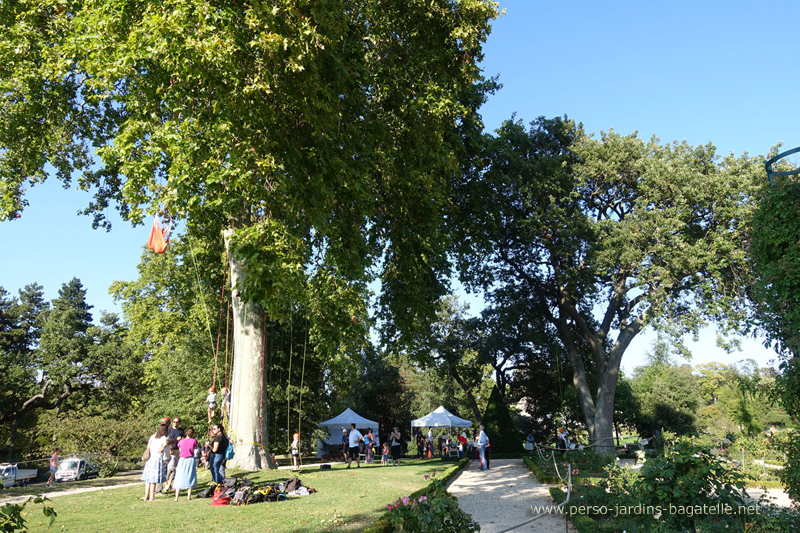 Halloween coming soon!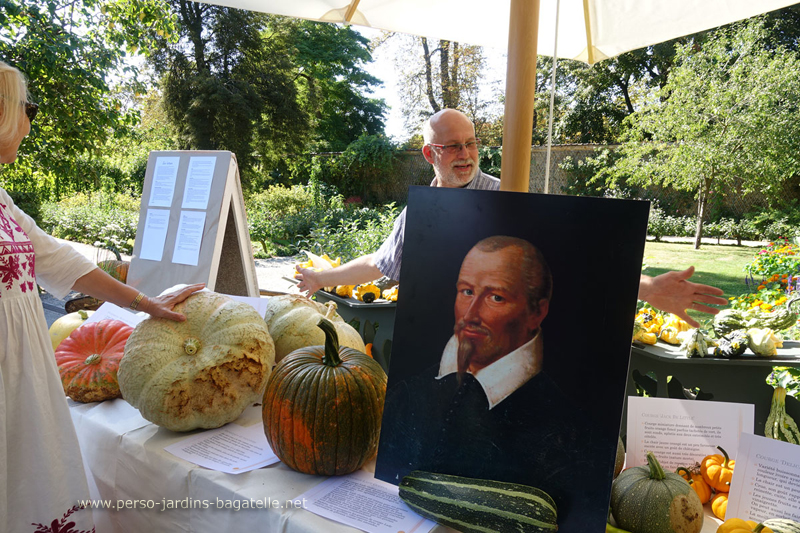 Autumn started and various types of chrysanthemum and aster species are displayed at the moment.
Heavy rain was has a little damaged the asters so let's focus today on lovely chrysanthemum flowers.
Below are the chrysanthemum flowers nicely displayed around the what used to be "the house of the gardener in chief" (but nobody lives here anymore) between the vegetable garden and the presentation garden.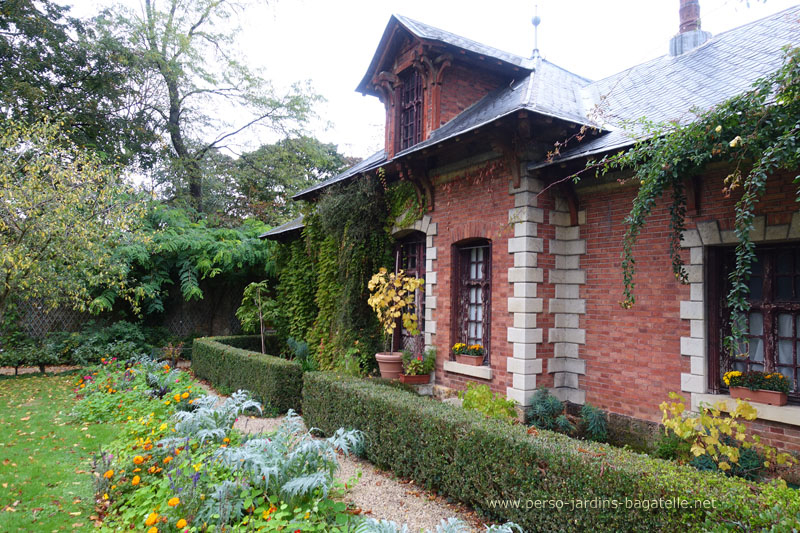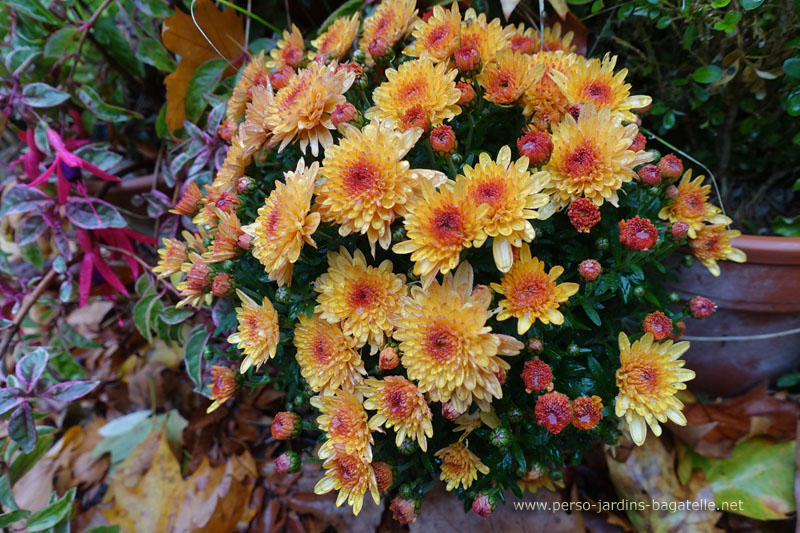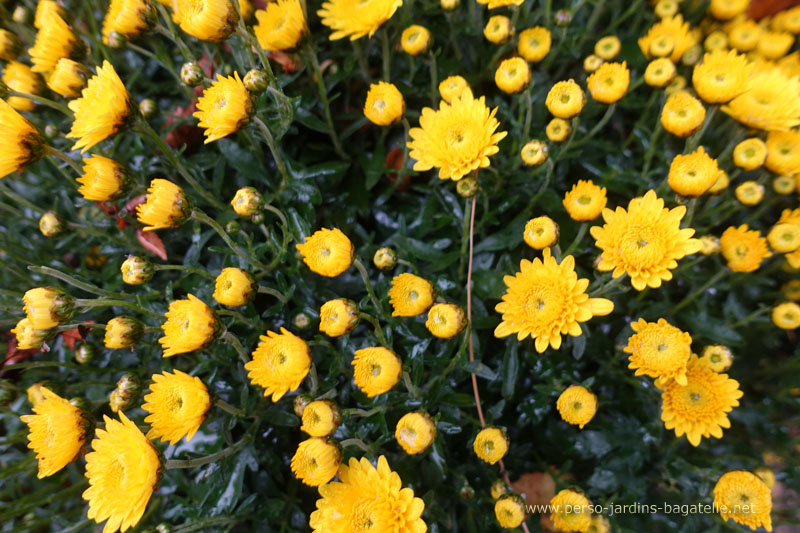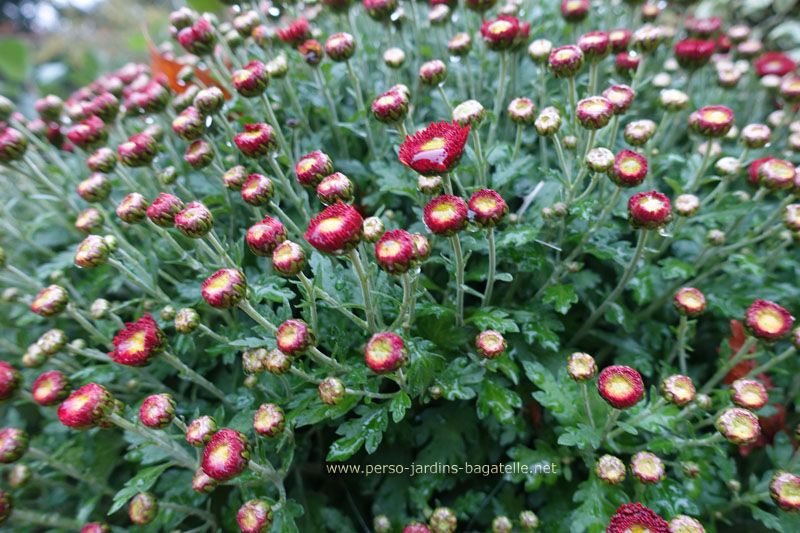 The admission in the park is free during autumn and winter.
Don't hesitate to visit the French pages and INSTAGRAM for more pictures! Enjoy!

1 January 2018
Dear visitors,
How would you like to enjoy the rose garden of Bagatelle in 2018? Bathed in light, lush and full of flowers, or perfumed? All at the time? Here you are! Have a wonderful new year 2018!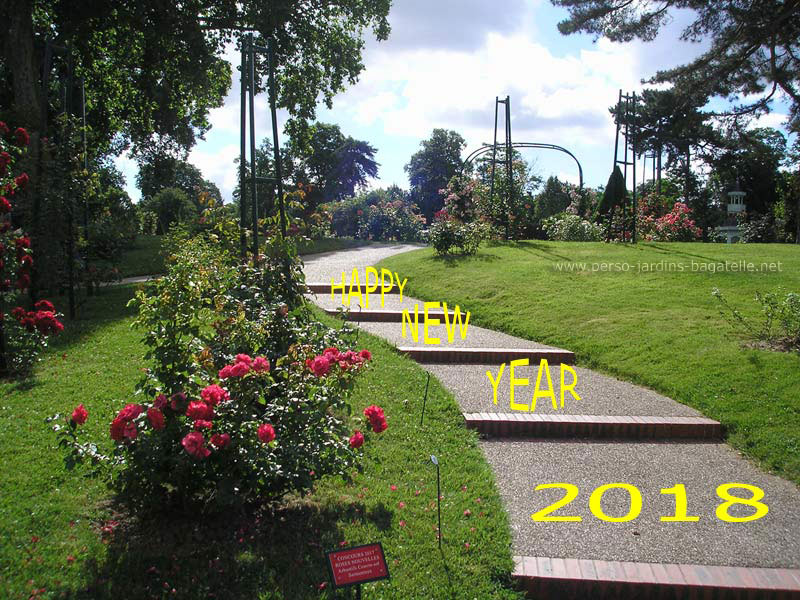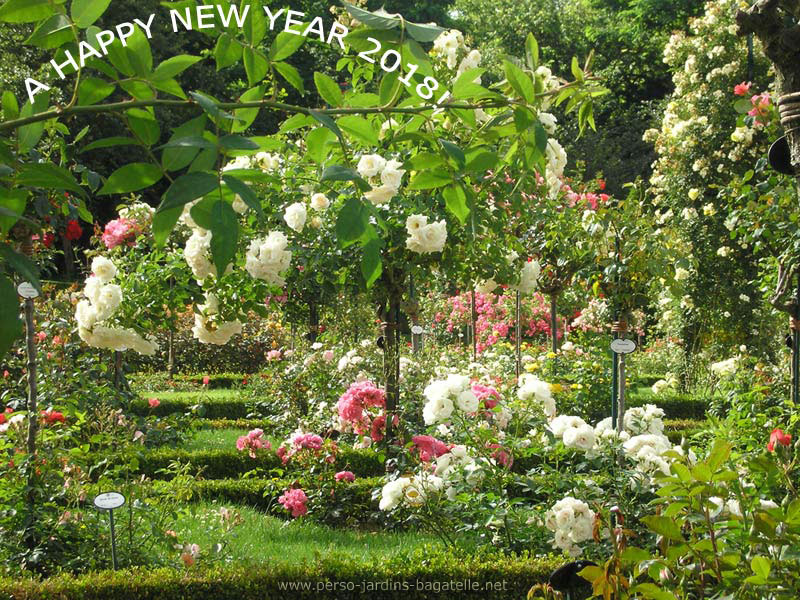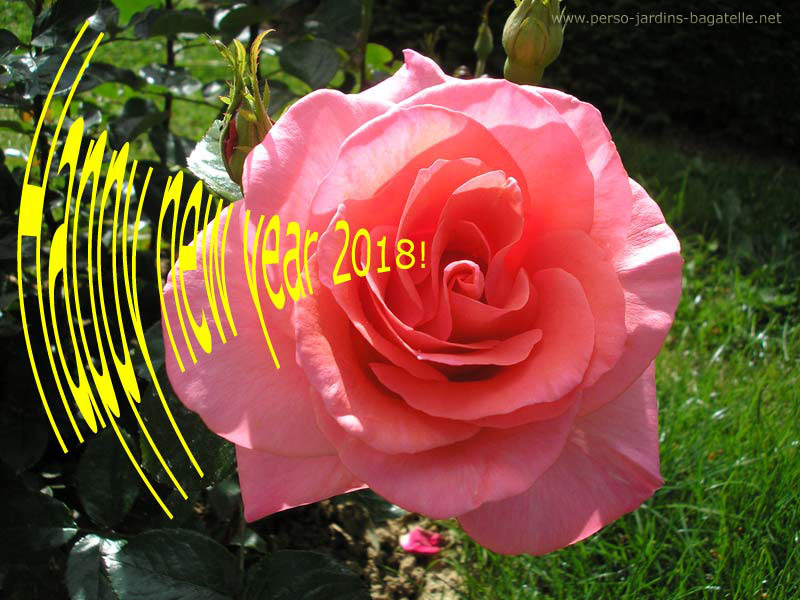 (Rose tree "Rose du Mérite", cerated by :Adam)

March 2017
Dear visitors,
Shame on me! That's 3 years since I last updated in English. I hope that in the meantime, you enjoyed the pictures on the main website, the French one...Just click here!
But, I would like to offer you 3 main pictures that were all taken at Bagatelle in March, not the same year, not the same week, so that you can notice the magic of the transition from the end of winter and the beginning of spring in Paris, France, in the woods of Boulogne, which are located in the west of the city. Today's features are not on the main website, this is for the English page only. Exclusive contents, if I may say! There are also a few side pictures.
First, one of the grottoes in Bagatelle (taken on 3 March 2013) , you can almost feel the coldness of February lingering...that place is called the "grotto of the four winds", or la grotte aux quatre vents(see more : there is a metallic gazebo on the top) .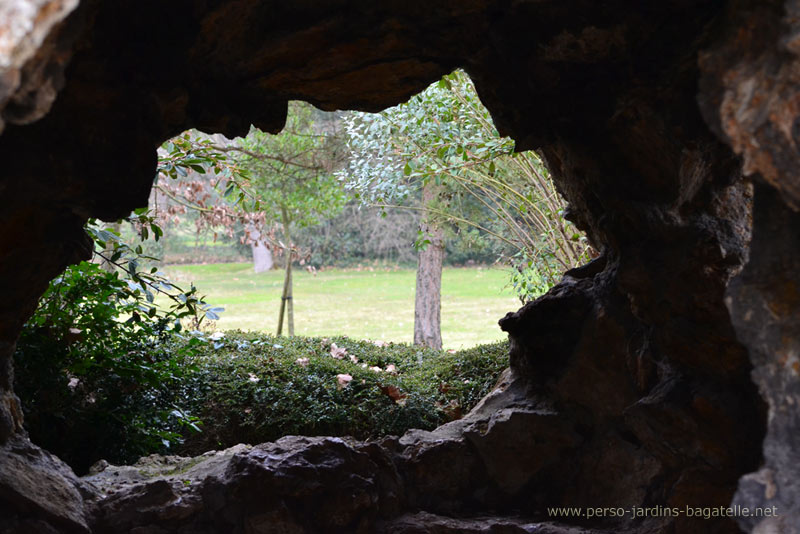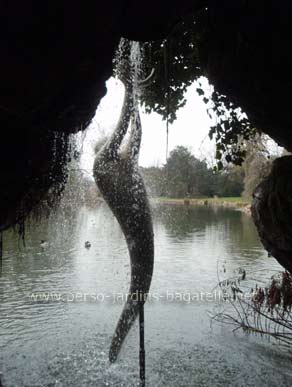 (by the way, on the same year, sculptor Robert Arnoux ' s beautiful works were temporary displayed in the parc, have a look.
His works perfectly fits in nature. The day I took the picture, by a happy coincidence, the artist was there, perhaps it was the week-end of the opening. I was able to tell him how enthousiastic I was about this exhibition. He was a very nice person, with a great poetic sense.)
That is 11 March (2017). You can see that flowers are starting to spring on the grass but trees are still in winter "outfits", as far as broadleaf trees are concerned.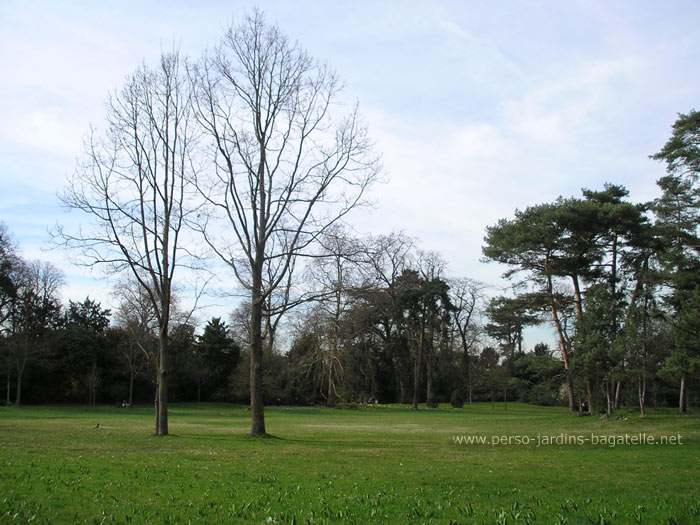 I like winter for bare trees and the beautiful winter light. It is cold... by Parisian standards, but here we don't know what winter is really like, (if you read this from Canada, Russia or Iceland for instance, you guess what I mean), however we Parisians love to complain that it is so--- cold!! Here, a day of snow can turn into a day of panic sometimes...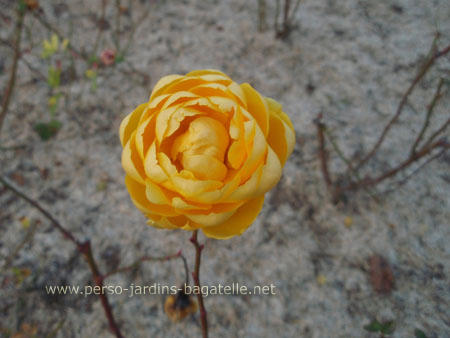 A December rose with snow : so-- cold !
Finally, tada---! End of March (20 March 2009) is blue sky and tulips! (and photobombing!). The second picture is older, for tulips lovers ( and I know they are many! see Bagatelle in April too). The building is the orangery.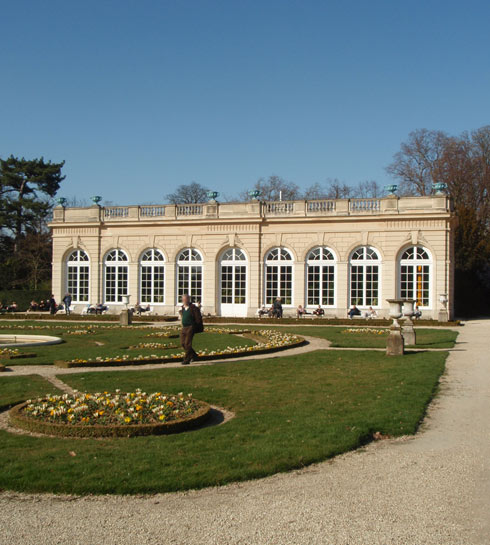 That 's all for today, I hope you liked the "exclusive" contents! Please visit the main site for more pictures! (and thank you for your patience reading my far from perfect English).
Previous updates:

January 2014
Dear visitors,
I wish you a very happy new year and a happy life!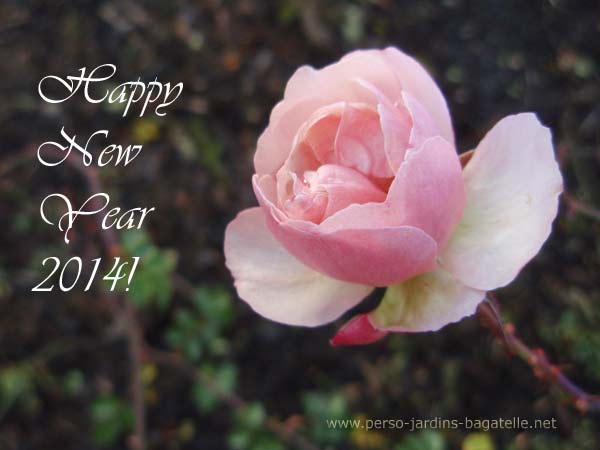 Winter is warm and rather sunny (no snow this year so far) in Paris, France. The rose in the picture above is "Fée des neiges" (snow fairies) by Kordes, and was blooming at the begining of January. The rose garden is quiet now, ...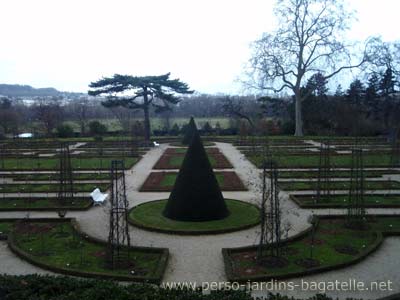 ...and on sunny days winter days the benches in front of the Orangerie are a nice place to rest a few minutes.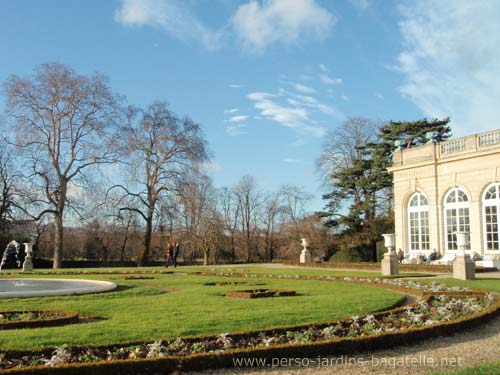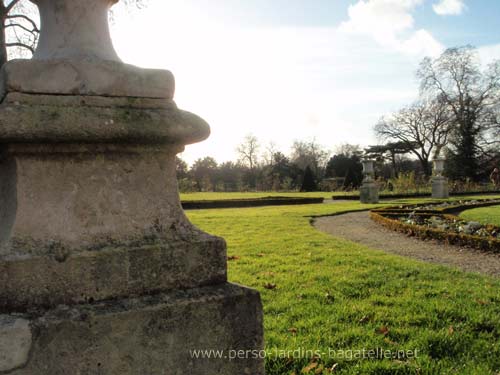 On the pictures below you can see the rose garden last summer.
Here is the rose tree selected in June 2013 by the jury of the Bagatelle international new roses contest, "Cherry Bonica", created by Meilland. It was also chosen as the visitors' favorite 8 months before (In September, visitors can vote for their favorite rose tree among the following year's contestants. They put their ballot paper in boxes displayed in the rose garden. Voters can write their name and contact address if they wish, because one bulletin is drawn by lot : the winner is invited to join the jury for the following year's contest).
For more information and pictures on the results of the 2013 contest, please refer to the special report (in French). Spring was cold in France last year and rose tree bloomed later than usual.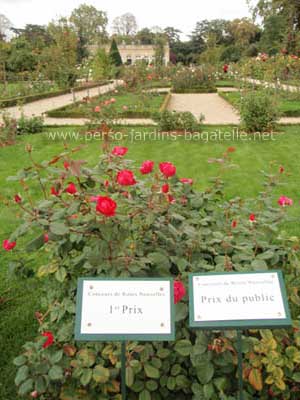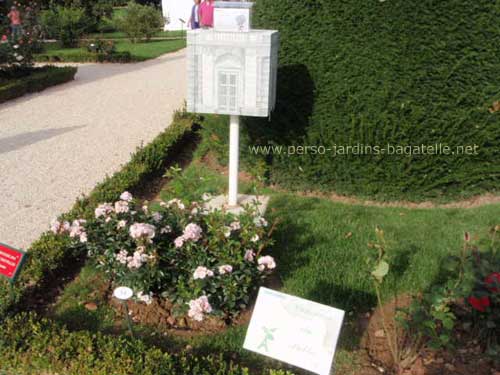 January 2012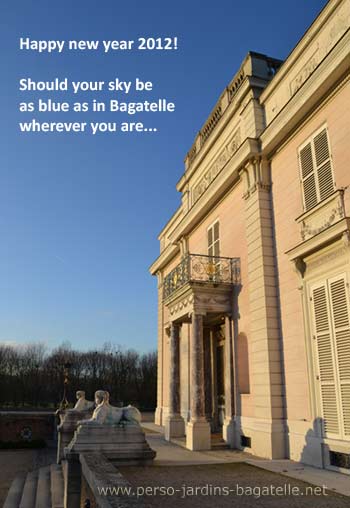 19 January 2010
Dear friends,
Today, to help you to locate the beautiful botanical garden of Paris (France) I am talking about in this website, I have created a link to Google maps.
In France, "Bagatelle" can be several places : there is a parc with the same name in the city of Montpellier in the south of France, and an amusement park near Berck in the north of France too! Moreover there is another "Bagatelle Castle" in Abbeville, which is about 150 kilometers far from Paris! So in order to avoid any confusion, maps will help :-)!
"A bientôt" ! ("See you soon!" in French)

27 december 2009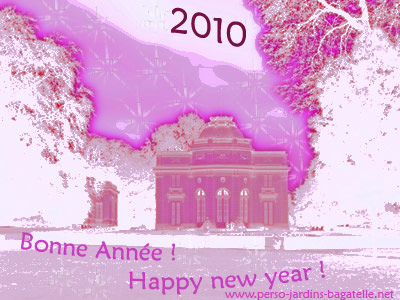 Best wishes for the new year ! I cannot belive were are in 2010!!
We had snow in Paris 10 days before Christmas. It was really beautiful. Unfortunately for me, the park of Bagatelle is closed when there is too much snow, for security reasons, and I cannot go and take wonderful pictures of a white Bagatelle.
But fortunately, we only have to wait for a few days for the park to be re-opened, and most of the time, there are still some snow here and there. I had the opportunity last year to be there at the right time, just when the park reopened after a snow fall.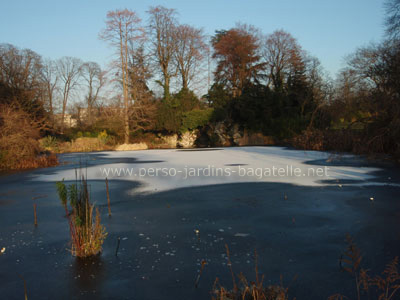 Isn't it nice?
Happy New Year!

Summer 2009
Dear friends,
Summer is always a busy time in Bagatelle .
On June 12, several creators were awarded prizes by the Jury of the Bagatelle International New Rose Contest (created in 1907). On this website, you will discover the pictures of the award-winning roses, which can still be admired in the rose garden. Moreover, next year's contestants can also be found in Bagatelle's rose garden at the moment, and the general public is invited to vote for its favorite.
The 2009 international new rose contest of Bagatelle (in French)
For music lovers, 2 classical music festivals, the Chopin Festival and the Octuor de France concerts, are held every year from June to August in the Orangerie, close to the beautiful rose garden.
Every year, at least one major exhibition is displayed in Bagatelle. This year, Bagatelle (as well as the 3 other botanical gardens owned by the city of Paris ) celebrates the bicentenary of Charles Darwin's birth in 2009. His famous book The Origin of Species is generally the only thing most people know about him, and it is a good opportunity to discover Darwin 's life and personality, as well as the major event of his life, a fascinating five-year trip around the world when he was a young biologist.
Exhibition Following Charles Darwin around the world (in French)
I also add a more information in the page about the Chinese-style kiosk located not far from both entrances of the garden, a popular spot for taking pictures. There is a small lake and a beautiful sophora tree next to it, and beautiful Indian peacocks often wander round the kiosk. A have also add a page on the second entrance, the "Grille d'honneur and the links on the map below were not working, I corrected them :-).
Have a nice virtual walk in Bagatelle'gardens !
April 2009
Although I have updated this website in February, I did not mentioned it on this English home page...sorry. But you will have more to discover today ;-).
Now, it is spring in Paris and the weather is quite nice. We have a lot of sunny days, and also some rain which is good for the vegetation...Last year, there wasn't enough rain last year so we've had expensive fruit all Summer; let's hope this year will be different so we can have some delicious fruit ! (last year, the apricots were tasteless (mainly the ones you buy in Paris)in Paris - our fellows in Provence were probably luckier, I suppose...no wonder why many people in France are longing for living there ;-).
Well, let's discover what's new on the website (and you will read that the above digression is not completely irrelevant). First, the clickable map has been amended, and it is much more convenient now to locate the clickable parts and the related pages. All links lead to pages in French, but even if cou cannot read French, pictures need no translation. On this occasion, let's inaugurate a new page in English with a clickable map as well as a Site Map with list in English of all the French pages of the website.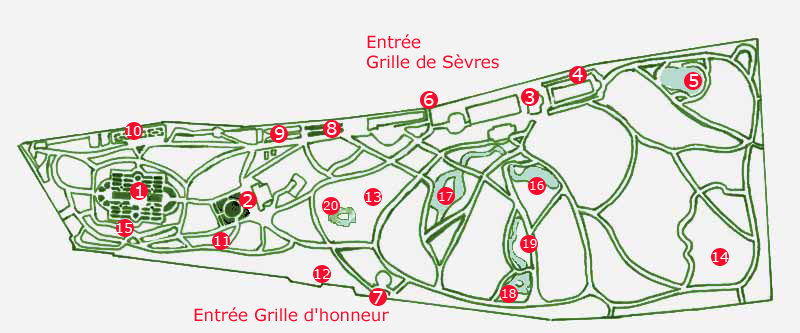 Each red dot on the map is clickable. If it does not work, may be your navigator needs to be reconfigured, but you can also access to the page by clicking the above links.
At the moment, the texts of linked page are in French but you can enjoy the pictures.
I have added a new page on the Mediterranean garden (that's why I dropped a hint abour Provence) of Bagatelle. In fact this is a new place in Bagatelle, and was not in the original design of this Anglo-Chinese park.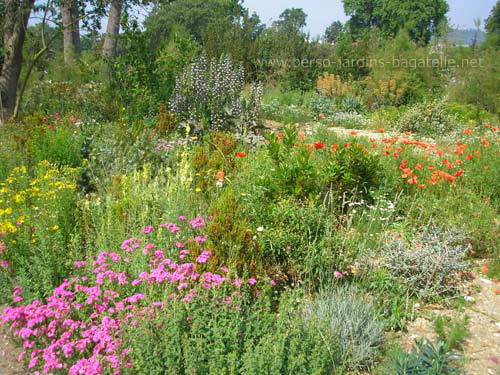 Here is a little history about it. If you were in France at the end December 1999, you may remember that a big storm swept across the country, devastating many forests. Bagatelle, located in the Boulogne woods, also suffered: many trees were uprooted by the wind. The park has been closed for several weeks for cleaning up as well as for making the access secure again.
Consequently, some part of the Bagatelle definitely changed. For instance, I remember a big tree in the middle of the grass, close to the small rose garden (maybe it was a Cedar of Lebanon) which was very beautiful. Due to its location, alone in the middle of a wide lawn, nothing could protect it from the wind, and it was broken down. But fortunately, Bagatelle was not too damaged in 1999, and the gardeners worked very hard to recreate the wounded parts.
One of the most wounded part was close to the Orangerie and Belvedere. I was a small shady and wooded place which hosted rabbits, hens, peacocks and cute red squirrels. After the storm, there were almost no trees left in this place, and after a few years this Mediterranean garden, radically different, with Lavender, Balearic boxes, pines and other typical plants and shrubs of our South was born.
Besides this new page, the main theme of the last update was spring and spring flowers of courses. The pictures can be seen on the French top page, or on the March and April pages. The previous update in February was dedicated to encounters with the animals of the park, peacock and ducks, a pheasant a two hens and several cats who have made some places their own and don't like to be disturbed (see the looks that kills).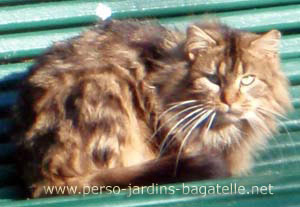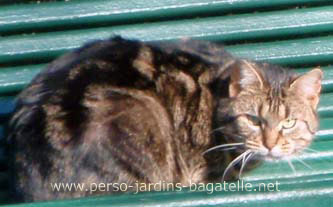 Finally, be informed that the summer 2009 Event in Bagatelle will be an out-door exhibition on the like and works of Charles Darwin, born 200 years ago. You may be surprised to read that an exhibition related to sciences and not botany will take place. This happens from time to time. Just for your info, here is a list of recent past events:
- in 2008, Exhibition of Japanese Kimonos with flower patterns exhibition and exhibition on the Art of Crystal with works of art from Baccarat, Daum, Lalique, Saint-Louis, with vegetal shapes
- in 2007: Roses in Bagatelle, Sèvres porcelain by the Manufacture nationale de Sèvresb and silk from Lyons by the Manufacture de Soiries Prelle
- 2006: Exhibition on renewable energies
- 2005 : Tribute to the Brasilian sculptor Frans Krajcberg
Have a nice virtual walk in Bagatelle'gardens !


HAPPY NEW YEAR 2009 ! ;-)
9 August 2008
Hello! Today this website enters its third year! 45 pages and about 600 pictures so far...I hardly can believe it.
Today, to celebrate it, come and see the picture of a typical rainy day of July as well as the pictures of the exhibition of Japanese kimonos held in Bagatelle until 15 July.
Texts are in French only, but the pictures speak for themselves, in a universal way.
Bye!

17 July 2008
Come and discover some pictures of the Garden of Bagatelle taken at different time of the year. On the "Four Seasons"'s page, you will see several overwiew pictures, with links to thematic pages on Bagatelle in February, March, April, May and June. July is coming soon!
Bye!
7 July 2008
Dear friends,
A wonderful exhibition of Japanese kimonos is being held in Bagatelle until 15 July, organized by the City of Paris in cooperation with the famous Japanese fashion school and museum Bunka Gakuen as well as the Japanese designer Junko Koshino.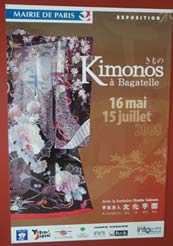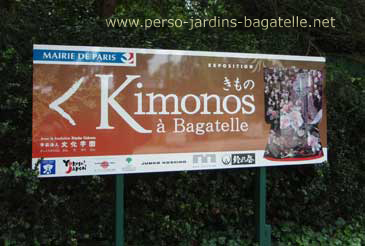 You will see sample pictures and read a short presentation about the exhibition in French here. Detailed information and more pictures will follow after the closing of the exhibition. If you are in Paris now, don't miss it!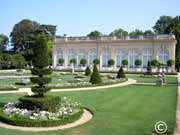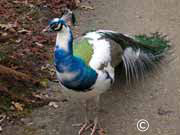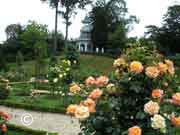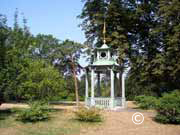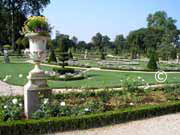 Dear visitor,
Thank you for visiting my personal website dedicated to the Gardens of Bagatelle in Paris , France. Bagatelle is a botanical park managed by the city of Paris. It is located in the Bois de Boulogne, the woods in the west of Paris. It is a beautiful place famous for its rose garden, but there are also an iris garden, a vegetable garden, a Mediterranean garden, ponds and grottoes among many nice places to see. There are also many peacocks who love to hear compliments :-).
This is a lovely place for a walk or sit in front of beautiful nature, and there are also some activities proposed to the general public, mainly in summer and autumn, such as exhibitions, a rose fair or classical music concerts.
This website is mainely in French, but with a minimum guidance in English, such as news update on the present page, a site map, and a virtual tour with a clickable map. There are more pictures than texts on the website, so you can enjoy it even if you cannot read French. :-)
Have a nice visit, and I hope you'll come back soon!
| | | |
| --- | --- | --- |
| All rights reserved © 2006 - 2022 | Last update : 28 March 2022 | Contactt |